Want to know where would you find world's best network with the strongest connectivity ever? Yes! as you are reading this article your guess is absolutely right, it's in the mountains 🙂 In this head-down era, there is place where people are most concerned about the network signals inside their hearts, of which we are seldom bothered in our busy lives. So, I'm going to take you to a place where people still stand outside the BSNL STD booth maintaining a queue to make a call, as they have mobile phones but no signals; where festival of flowers is celebrated; where they worship the villian Duryodhana of great Indian epic 'Mahabharata'. AND those people have mastered the art of appreciating the beauty of life very nicely!.
Ever got stuck while pitching a tent ?, Well, I was lucky to have the 'opportunity' in  Har-ki-Dun trek while passing by Osla Village, the last known human settlement on the way of the trek, in Mori Teshil of Uttarkashi district in the state of Uttarakhand.
It is a nightmare for the first-time trekker if it's raining, it was going to be dark in an hour, you didn't have a single penny in the pocket, lost in the mountains alone while being a novice and most importantly not knowing how to pitch a tent. But still, my fellow trekker( we were 2 people on that trek) and I managed somehow that night. That was not an act of chivalry, if not stupidity but we literally learnt a lot. The most important of all, the lessons learnt were following our gut instinct.  
"Bravery is knowing what can go wrong and still choosing the path. But we were not even equipped with that knowledge of what can go wrong, it was the biggest mistake"
Look, getting lost in the mountains is seriously a very scary thing, we had to experience. Because we won't have any GPS access out there, moreover as the population density is very low it is a matter of luck if you could stress any passers-by. On a positive note, in there, one mostly have a single path leading to the destination, and if even then you get lost like we did, you badly need some luck. So, When we had completed the first part of our trek from Sankri to Taluka,( for more click here, Har-ki-Dun Trek ) we were looking for a suitable place to pitch our tent that was taken from Sankri on rent for Rs.200/- per day, and the intersting part was we didn't knew how to pitch it but were confident enough to do the job. And while searching, accidentaly we got lost…..!
Suddenly, we encountered one villager from Osla, whose name was Kishan, searching his cattle who was last seen while having her breakfast (the grass, of course). Humorously, instead of his cow, he found us or vice-versa. When he got to know about our situation, he told that there was ground near the school in his village, where pitching a tent won't be troublesome. So, having no other option we started our journey to Osla with his company. Crossing a huge bridge we got on the other side of the mountain. Then there were some extra miles we were covering after 5hrs of the trek. Stepping on huge stones as there was no proper trail, for normally trekkers don't visit this village. Finally, we reached after almost 2hrs of hiking.
Going on a path which is unconventional and totally new to you, is itself an adventure, whose creator is you.
Now, we were standing in front of a school which was abandoned long ago and was not even properly built, all in all, it was haunted at the exterior of the village and behind which there was a ground. Kishan bhaiya left us from that point and told us to pitch the tent anywhere we like. We thought of taking some rest at first and then do the tent work, At first, I was very excited, we even met some kids out there but soon it started raining simultaneously getting cold and darker. Some action was needed to be taken immediately!.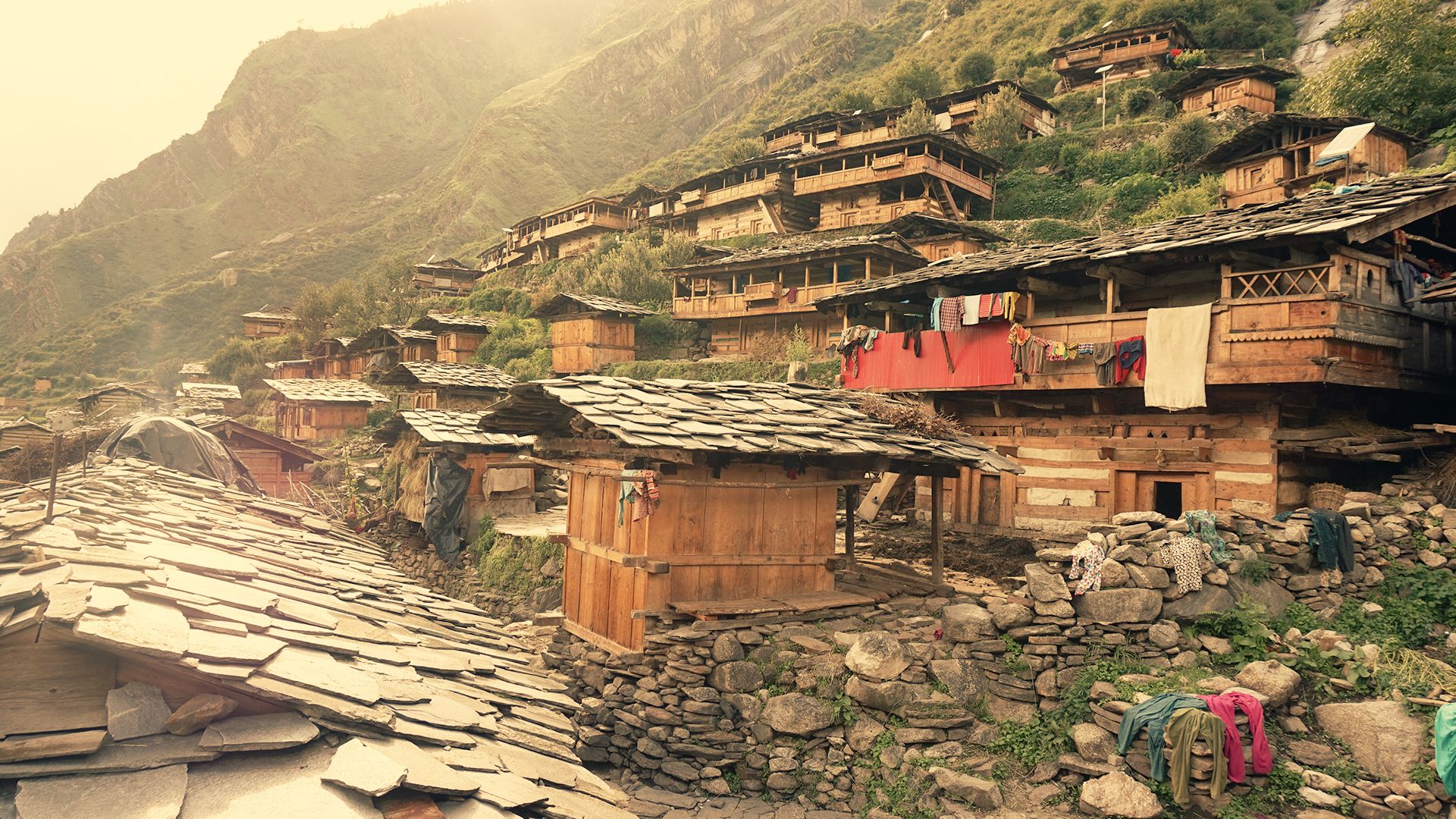 In no time we decided to start heading towards the village and pitch our tent somewhere nearby. But to our utmost surprise, we were treated with special care and warm greetings as guests in that tiny village. Villagers were very excited to welcome us, as we felt same way witnessing host's hospitality because at first, I thought they were thinking we would be harming them, but to our luck when they saw us struggling to pitch our tent, everyone started to offer help out of sympathy, very soon we all realised that the wind was very disturbing due to poor weather conditions and it was becoming very difficult to do tackle the refractory tent considering we all amateurs. Seeing us failing miserably they started insisting us to stay at their place and obviously we were on our nerves and confused at that moment.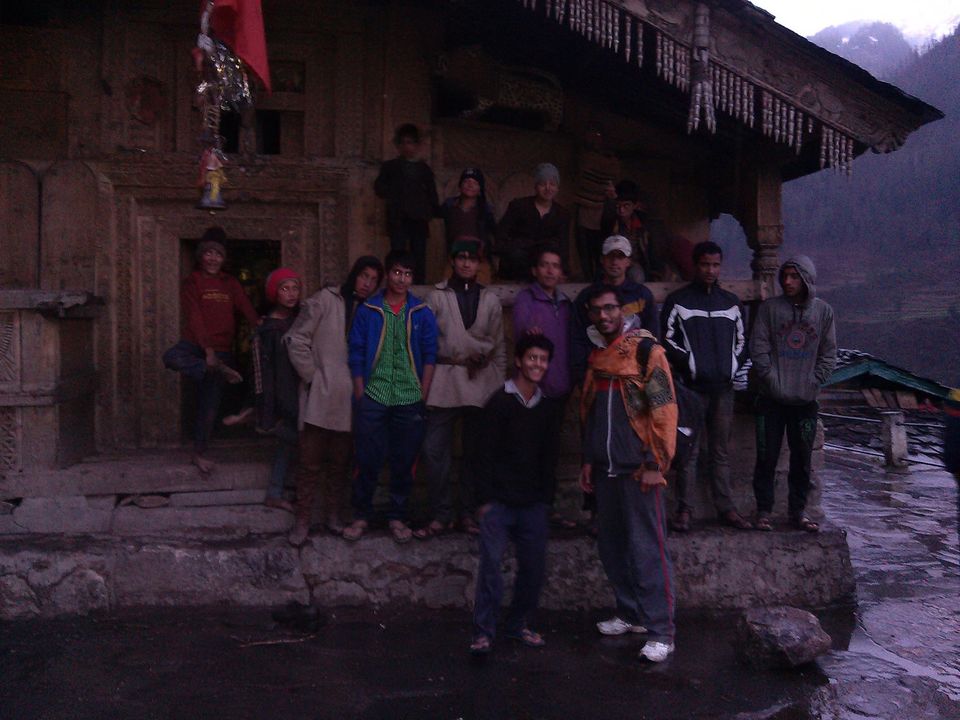 On Kishan Bhaiya's arrival at the right time, very excited to meet us for the second time assured us by offering his place for night stay. We followed him pleasingly. His home was really very beautifully decorated, made of Deodar woods, some logs were kept in his basement which is above the ground surface as fuels to light in the chilling in the winter, designs were crafted on the pillars and this was the case of every single house in there. In his family, his wife, their 1-month-old daughter and his mother were there. They told us to sit in the drawing cum kitchen room serving us Rajma-chawal( a  popular North Indian dish) with Desi ghee, which was delicious to us, maybe because already we were damn hungry, as everything seems tasty in empty stomach. We spent that night in his place and what a beautiful experience we had. Interacting with the villagers and getting to know what they feel about city life was a bonus.  
Kishan bhaiya and his wife were only 23 yrs old, but it's a ritual there to marry early in life, I noticed that they were not very happy with that way of life. But due to less exposure to the modern 21st century thinking they were complying with their society issues. 

"his burden didn't feel any lighter. but he felt strong enough to carry it"

― Amish Tripathi, The Immortals of Meluha.
So, I'm not saying that they are very happy with their life, certainly not. They too want to experience the speed of 4G and the fast-paced metro life. As the proverb says "the grass is always greener on the other side". The nature is so rich there that they need not to be money minded people, and they are not for sure, being always surrounded by great Himalayan mountains, limited resources are tolerable. They have learnt the importance of being humble and sharing in life. Certainly, they have the ability to form the strongest connection with human heart. They are mentally and physically much stronger than us. 'Osla' , is a village to remember.
If you ever go to harkidun trek don't forget to visit OSLA!.
---
                                                                                 –  Ramyani Biswas (Riya)